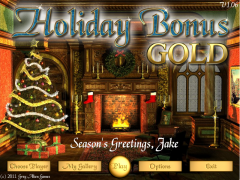 Great News! Holiday Bonus GOLD is currently in development and will be launching this December on iPad, PC, Mac, and hopefully Kindle Fire.
If you enjoyed the original Holiday Bonus then you'll want to check out Holiday Bonus GOLD. It contains all the levels from the classic Holiday Bonus game plus 55 brand new levels. You can select which level pack you want to play on the Christmas tree screen.
The PC/Mac version now also supports laptops with small screens as well as widescreen monitors. You can also disable the custom cursor and it has some improved graphics.
The iPad version features sharper graphics than the original including higher resolution backgrounds, and sharper buttons and text.
The game will be priced at $6.99 on PC/Mac and $4.99 on iPad. A festive bargain!
Keep an eye out for it in the coming weeks.