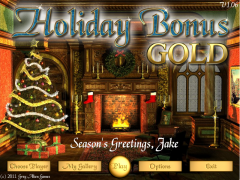 Yay! Holiday Bonus GOLD is out today!
You can play it on PC, Mac, iPad and Android. Please click this link to find out more.
Holiday Bonus GOLD is an enhanced version of the original classic Holiday Bonus game. It has twice as many levels as the original – bringing the total to 110! Also the PC/Mac versions have the ability to toggle Widescreen mode (to turn off stretching on some monitors) and to hide the custom mouse cursor, plus other technical improvements have been made. The iPad and Android versions have got sharper graphics along with all the new levels.
This game is super-popular this time of year so please check it out and tell your friends and family. It's even possible to buy it as a gift if you buy the PC/Mac version from my site.
I hope you enjoy this game, I know I had great fun making it!
Thanks 🙂