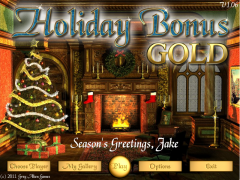 Last year I shipped 39 SKUs – so I've not been as prolific this year, but that's partly due to the fact I spent 7 months helping with Eets Munchies and also didn't do any localisations of existing games (which bulked out my SKU count last year).
I also purposely reduced the amount of mobile SKUs for some new titles as I found shipping 9 different SKUs for Holiday Bonus on mobile/internet last year was a bit much.
Furthermore I moved back to the UK from Vancouver, Canada which put a dent in my output capabilities. Still it's been an interesting year and I think that Holiday Bonus GOLD will be my most successful Grey Alien Games project of the year, and that only took me two weeks to do in Nov/Dec!
Here's the full list of SKUs
– Spring Bonus shipped on iOS. This was a single build for iPhone/iPad that had IAP for level packs. It could have easily been 4 separate builds; SD and HD and Lite versions of each, which is how I shipped Holiday Bonus in Dec 2011.
– Spring Bonus shipped on Android as a Lite and Full version that automatically detected if the devices was SD or HD and used the corresponding level pack.
– Spring Bonus shipped on Nook and Kindle.
– I made a special build of The Wonderful Wizard of Oz for Zylom who localised it into some more languages, so I'm only counting that as 1 SKU as they generated the different SKUs.
– At the Full Indie Game Jam in the summer I made Dying To Live which I then enhanced a bit more after the jam. I'll be adding more to this game in 2013.
– This December I had a brainwave to update my Holiday Bonus game with a ton of new levels and some other tweaks and released it as Holiday Bonus GOLD on iPad, Android, PC and Mac + Mac App Store. There are no lite/demo versions and no IAP, just full paid versions. I didn't bother with a phone version because it's quite a lot of hassle and only 10% of my mobile sales are from phones anyway. Also I didn't put up an Internet version. We nearly shipped a Kindle version but sadly it had a critical bug which meant I couldn't release it.
Previous Years
I also decided to chart how many SKUs I shipped in previous years since I went indie in 2005. I split the titles into free and commercial and here are the results:
2005: In my first year I made 4 free games to practice and released my first game, Xmas Bonus. I highly recommend new indies make complete free projects and release them to gain skills.
2006: I released 3 commercial games that are still selling today, so it was a pretty successful year!
2007: I worked on Fairway Solitaire for a whole year and it shipped at the end.
2008: Fairway Solitaire was localised to DE/FR/SP and also released on Mac, plus I released Oz and Holiday Bonus on Mac. Most of the year was spent programming Unwell Mel.
2009: Unwell Mel was released for PC/Mac and localised to 4 languages including Japanese, which was not easy! I spent 6 months working on a game that BFG cancelled due to wanting my team to join the My Tribe Facebook game team.
2010: My Tribe Facebook game went live and I made 3 mini-games which I really enjoyed making.
2011: Spring Bonus really bulked up the SKU count due to being released and localised. Also Oz and Holiday Bonus were localised which added a ton more SKUs. Plus Holiday Bonus came out for mobile which was yet more SKUS. I also made 4 free games of which Always Alone is my favourite. I also spent some time helping out with Eets Munchies. Quite a productive year!
2012: Another good year for SKUs due to mobile releases. See the post above for details 🙂
Strangely of all the games I've made, the ones I currently feel most excited about are the free game jam ones. In 2013 I am planning to make at least 12 games via the #onegameamonth thing. Post coming soon about that.
So how did you all do in 2012? Did you ship many games, or even one?
Make it your mission to ship something even if it's free. It's rare that people who spend years on something meet with success, more often than not it's a bad move but you only seem to read about the successes in the press.
So ship something soon! Good luck 🙂