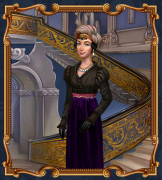 So many people have commented on the beautiful, high-quality artwork for Regency Solitaire that we wanted to do even more with it. We're really excited to let you know that now you can dress your own Bella character – thanks to our friends at Doll Divine. And this game is totally free!
Click Here to play it now.
"Doll Divine was created as a safe place for people of all ages to explore their creative side," says its creator, Ola Rogula, who is an indie game developer based in Vancouver, Canada . "The games are the new incarnations of traditional paper dolls. They take that basic concept of playing "dress up", and elevate it to new heights…"
Doll Divine is perhaps the only dress up site making games adults and children of all ages to enjoy. "Each exclusive doll maker allows you full doll customization," Ola says.
We can't express how much we love this game!
Try it and let us know what you think!