Took a free IQ test today for a laugh and got 150 (it takes your age and sex into account). That's a bit higher than I normally score – I normally get in the 140s.
Although I didn't pass on any questions and I'm pretty darn sure I got them all right (there was no guessing, I knew the answers). There weren't many questions (only 20), so I'm dubious of it's accuracy (the site seems set up to make money from ads), although I do feel pretty brainy today 😉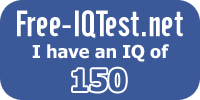 Free-IQTest.net – IQ Test
Does anyone know of any decent free IQ tests, I find them fun and I'd also like to let my eldest son try a few out. Thanks!